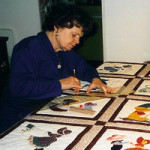 I met patchwork the first time when living in New York (1989-1993). My husband worked there with the United Nations. I have to admit, the first quilt didn't catch my eye. Maybe that particular quilt didn't have my choice of colors, maybe I disliked the pattern. Then at one summer, we visited the open-air museum in Canada. There was a display of different handicrafts, including patchwork. While watching four ladies dressed up in19th century costumes, sitting around a quilting frame and happily chatting, I immediately fell in love. Since then it was my dream to find such a group of friends helping each other – physically and emotionally as well.
In 1993, my husband's office was transferred to Vienna, Austria. The United Nations Women's Guild there offered plenty of activities for members, including quilting. First meetings were once a month, but after finishing the basic class we started to meet twice a month and when I became in charge of the patchwork group, it was already a weekly "drug". We were working together, sharing new ideas and patterns, helping each other with sandwiching big quilts and sewing different items for the Annual Bazaar and the UNWG kiosk. The profit from the sale went to different projects for children in need all over the world.
During all those years I have learned different techniques, patterns and styles. Since the very beginning I prefer hand sewing, any type of appliqué (Sunbonnet Sue, Celtic knots, Stained glass, Trapunto, English paper piecing, and most recently Hawaiian appliqué) and hand quilting. In machine sewing I like the most the foundation paper piecing.
Shortly before my husband's retirement (May 2003) I panicked: what I will do back in Prague, Czech Republic? Of course, I was looking forward to be closer to the family (we had four, as of now five grandchildren), but what about the patchwork?
In a short time I was lucky to find the Bellus Gallery, the patchwork center in Prague, where I could join patchwork enthusiasts and very talented quilters. Some became my students and many of them my close friends. And last but not least, thanks to the E-mail I am able to stay in touch with my "old" friends all over the world.
Jana Lálová, 2005